Medicines and toiletries in limited quantities and alcoholic beverages may be carried in checked or cabin baggage (maximum 2 litres or 2 kg).
The following items are prohibited to carry in you checked and carry on baggage.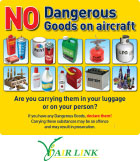 No household items: bleaches, drain cleaners and solvents contain dangerous chemicals which can cause toxic fumes and corrosion.
No compressed gases: e.g. refrigerants, flammable and poisonous such as butane and aqualung cylinders.
No corrosives: e.g. acids, alkaline, mercury and wet cell batteries.
No explosives, munitions, fireworks and flares and other explosives which might detonate due to their sensitive nature.
No infectious substances: e.g. live virus substances.
No radioactive materials and all poisons: e.g. insecticides and weed killers.
Firearms are not permitted in the cabin.
Passengers shall not tender dangerous goods or potentially dangerous goods for carriage as baggage.
No flammable liquids: e.g. fuel, paints, solvents, adhesives, alcoholic beverages higher than 140 proof and flammable gases such as lighter refills and camping gas might leak and cause a fire.
No other hazardous materials: e.g. strike-anywhere matches, gasoline-powered tools, spray cans, self-inflating rafts, poisons, infectious substances, mace and pepper spray.
Wheelchairs – only wheelchairs with certain types of batteries will be accepted. 

One wheelchair per passenger will be accepted and transported at no additional charge.  

Advance notice is recommended due to space limitations on the aircraft.  If a size and nature such that the wheelchair can be loaded onto and transported aboard, both collapsible and electric wheelchairs will be accepted for transport. 

For wheelchairs with wet cell batteries, the batteries must be disconnected, and terminals insulated and stored in strong, rigid packaging. 

The box must be clearly marked as enclosing such item with arrows indicating the "up" position. 

Regulation battery boxes are highly recommended.